THE HIGHEST MOUNTAIN PEAK IN THE US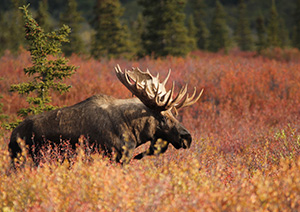 September 2014 – My wife Rae-Anne and I just returned from spending two weeks in Alaska and Denali National Park. Our primary goal was to experience the incredible mountain and tundra scenery.
Upon arriving in Anchorage, we took the infamous Alaska Railroad train to Denali. Although it was a very long 8-hour ride, the journey was uniquely special, incredibly interesting and magnificently scenic… well worth the time, and such a comfortable and non-stressful way to travel a long distance.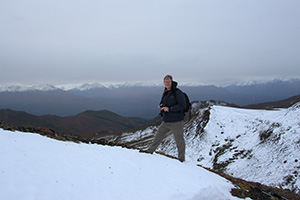 For the first few days of our trip, we based ourselves near Denali Park Village just outside the entrance to Denali National Park. We spent that time heli-hiking in the mountains and renting a jeep to do self-drives along the first 15 miles of the park road to Savage River.
This was the first time my wife and I had experienced heli-hiking. What an incredible adventure! The helicopter portion of the excursion alone was a huge thrill, especially for us first-timers. The helicopter dropped us off at the top of a mountain covered in eight inches of snow and we then spent the next several hours hiking our way down the mountain to a designed pick up point. Let me say that, IMHO, heli-hiking in the mountains is definitely not for the faint of heart, but it definitely offered a point of view and perspective with respect to scenery that would be almost impossible to replicate in any other way. Apart from the unparalleled mountain scenery, we also saw lots of evidence that bears, dall sheep, moose and caribou had recently passed through the areas we were hiking through. And if this all hadn't been enough already, we also experienced the thrill of flying up close and personal over a herd of dall sheep grazing on a shear mountain face.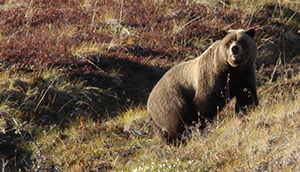 Self-driving the first 15 miles of the park road to Savage River was also an amazing excursion. It was so great to be able to stop wherever you wanted to and for as long as you wanted to, photographing the amazing wildlife and scenery to your heart's content. That first 15 miles of the park road includes a 5-mile stretch of one of the main moose rutting areas in the park and we definitely saw several of them at very close distance.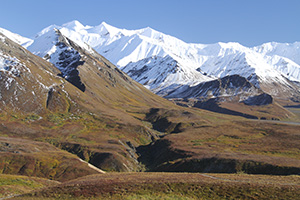 The remainder of our trip we spent at a wilderness lodge at Mile 95 of the park road, which is as far as you can go by vehicle into the park. When we arrived at the lodge, we were concerned to hear that the weather at Mount McKinley had been cloudy throughout most of August. In fact, we were told by the lodge staff that the infamous mountain reveals itself in total clarity on average only once every five days! I guess the weather gods were with us this trip because as it turned out, we had clear, blue skies shining down on perfectly peaked Alaskan fall colours every single day of our one week lodge stay. This allowed us an unending number of opportunities to capture on camera the beautiful tundra and, of course, Denali (aka Mount McKinley) in all its splendor.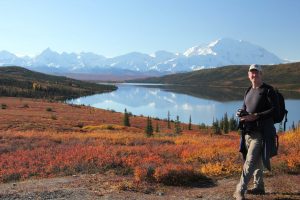 As I had travelled to Alaska myself twice before when I was much younger, I pretty much knew what to expect on this trip as far as wildlife viewing was concerned. You usually see everything… moose, bears, caribou and dall sheep. Since Denali National Park is so expansive though, the wildlife have an extremely large territory to roam about. The challenge is getting within decent range of capturing those moments on camera. In a nutshell, Denali National Park is definitely a place where monster camera lenses come in quite handy!
In the end, my wildlife research expedition to Alaska was a total success! I achieved my primary objective, which was to gather great mountain and tundra landscapes at the peak of the fall colours, and I was blessed with many first-hand encounters with moose, bears, caribou and dall sheep.
Alaska is definitely a place we'll return to!
ABOUT DENALI NATIONAL PARK
Denali is six million acres of wild land, bisected by one ribbon of road. Travellers along this road see a relatively low-elevation taiga forest that gives way to high alpine tundra and snowy mountains… finally culminating in North America's tallest peak — the 20,310′ Mount McKinley.
Wild animals large and small roam the unfenced lands of Denali National Park, living as they have for ages. It's a place that connects people to America's past; a place that protects wildlife and presents amazing landscapes; a place that celebrates an individual's opportunity to experience inspiration, reflection, awe and wonder.
Solitude, tranquility and wilderness await you in Denali National Park.